Working With A Lawyer
---
In my most recent post I blogged about hiring a lawyer. In this post I would like to talk about working with a lawyer.
People are often confused, frustrated and sometimes even angry at the rates that lawyers charge. However, lawyers are like any other service provider.
Ever get an estimate on a home renovation project? Only to find out later that the estimate is different because of alterations, unforeseen events or new circumstances? Ever take your car into the garage only to find out the price quoted was different?
This is often the case with lawyers as well.
Sure, there are many service providers that overcharge or are not upfront about their costs. Then there are others that are not.
Some matters are simple and straight forward. For example a real estate house closing. Whereas, others matters can be significantly more complicated such as civil litigation lawsuits, or family law disputes.
When you decide to work with a lawyer ensure you are aware of his or her hourly rate. Determine whether this is a matter that will be billed on an hourly rate or it will be a flat rate.
Find out how much of the quote is for legal fees and how much is for disbursements.
Disbursements are expenses that lawyers have to pay on your behalf. These are often factored in the quote provided.
Finally, don`t forget tax is payable on legal fees.
Ensure when the lawyer bills you that you are provided with an invoice. Typically, it`s good practice for the lawyer to provide a breakdown of the legal services. This is not often the case when the matter is on contingency or on a flat fee.
Rehan Khalil is a lawyer in Mississauga.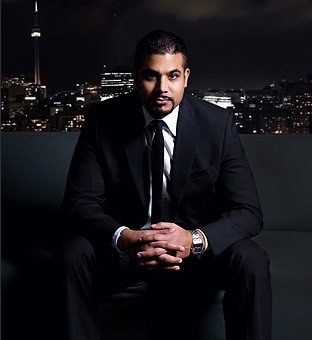 call or sms me
(416) 505-4901
anytime for
a free consultation